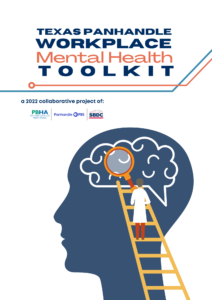 Workplace Mental Health Toolkit
Read the 2022 Texas Panhandle Workplace Mental Health Toolkit to use as a starting point for employers, managers, or employees, in the hopes of becoming a more effective mental health champion.
This is a collaborative community project by Panhandle Behavioral Health Alliance and America's SBDC at WTAMU.
Participants will learn through collaborative reading of Brené Brown's Dare to Lead book, workbook, and additional readings. Participants must purchase a print copy of the book, the workbook will be provided at the orientation meeting. Please consider purchasing from a local business like Burrowing Owl or AuntEEks.
What is a Learning Community?
Learning Communities are powerful vehicles that allow individuals with a common concern to collaboratively deepen their understanding of a given topic by learning together as they pursue their individual work. The Research Center for Leadership in Action notes that these communities are based on the notion that peers exchange knowledge, acquire skills, and change their practice in and through social relationships. Read more about Learning Communities.
Who Should Participate
This Learning Community is for c-level/upper-level executives in the Texas Panhandle who have the power and desire to affect positive change in their organizations.
​Limited in-person and online only spots will be approved for this initial cohort. The facilitators will closely review all applications to ensure that participants are able adequately participate, have the authority and desire to enact positive change in their respective organization, and ensure diversity among participants that will foster new learning experiences.
​
What to Expect
The Learning Community will meet monthly to discuss the reading material in the book, complete/review exercises in the workbook, and collaboratively share insights and information. The facilitators recommend that participants work in pairs in between meetings to review pre-assigned exercises and reading materials.
Monthly meetings are scheduled for one hour in Amarillo, beginning in January of 2022. An orientation meeting will be hosted on December 8th in Amarillo so that approved applicants can provide input on best days/times, meet their fellow Learning Community members, and receive workbooks. A limited number of spots are available for online only participants. Breakfast and coffee will be provided.
Meet Your Facilitators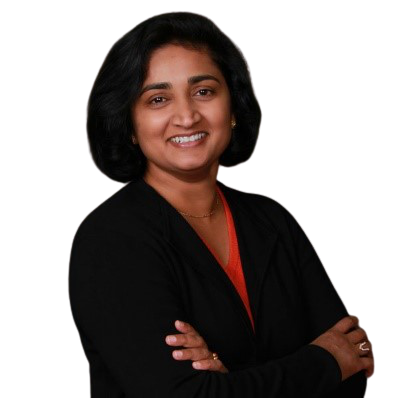 Sridevi "Shree" Veeramachaneni is the Executive Director of the Panhandle Behavioral Health Alliance (PBHA), a cross-sector community collaboration for the Texas Panhandle that seeks to improve access to care on mental health and substance used disorders (SUD) in 27 counties.
Since 2018, Shree works with PBHA members and stakeholders to collectively address mental health, recovery and wellbeing by aligning and coordinating activities of various aspects of our local systems as well as collaborative activities that shift our culture to early-intervention. When mental illness or SUD is ignored or treatment is delayed, it shows up at work, school, emergency rooms, justice system interactions, and other areas of life or community.  Shree assists communities and organizations design solutions to address overall wellbeing thru a strengths-based approach that embraces prevention and early intervention.
Gina Woodward is the Regional Director of America's SBDC at WTAMU, where she has worked since 2008 to provide entrepreneurs and small business owners in the top 25 counties of the Texas Panhandle access to free consulting and low-cost, skills-based training.
Gina is particularly passionate about furthering opportunities for women in business in the Texas Panhandle and she has been involved with many local women's initiatives including the Texas Governor's Small Business Forum for Women, Supper Clubs, and Texas Panhandle Women. She pursued undergraduate studies in forensic psychology, and although later pivoted to business, the psychology of leadership is Gina's favorite area of study.
Apply Now!
Applications are now open for participation in this 2022 cohort. Please submit your application by Tuesday, November 23rd.
Applications will be reviewed and all applicants contacted via email by Wednesday, December 1st. All approved applicants are asked to attend an orientation meeting on Wednesday, December 8th at 8:30am. Breakfast and coffee will be provided.